Online Branch
Welcome to SBSU's new Online Branch!
Desktop Users: Log in at sbsu.com and go through the new authentication process.
Mobile iOS or Android apps should automatically update after 9:00 AM Mountain Time on June 23, 2020. After the app is updated, log in and go through the new authentication process.
How will the conversion affect you?
SBSU's new platform has new features, including Zelle® (enabled 7/21/2020), personal financial management, credit score reporting and many self- service features.
Read though the list of changes (below) that my affect you:
Intuit Users

If you use Intuit products, such as Quicken, QuickBooks, Mint, including Online and Express Web versions, you must take action to connect to our new system on or after 6/23. Click Here for detailed instructions

Bill Pay

Use our new platform at www.sbsu.com for Bill Pay.
Payees have transferred to the new system.
Payments scheduled to occur during and after the conversion will occur as scheduled. Please verify after conversion.
Contact us if you experience trouble accessing Bill Pay June 23, 2020 or after.

Transfer to External Accounts

If you had the ability to transfer money to/from external accounts, that ability should transfer to our new system.

If your two-way transfer capability does not appear on the new system, please re-establish by going to (after login) Transfers > External Accounts > Add External Account.

If you do not sign on the external account and could only transfer money into it, please read the following:

"Deposit Only" to an external account is no longer supported.
Zelle® will be the primary method for transferring money externally to accounts you do not own or sign on.

Zelle® will be enabled July 21, 2020. Zelle® has network maximums per transfer/day.
Until Zelle® is enabled, the following options are available to transfer money to external accounts:

Ask us to enable "Retail Wire" on your user profile.
Or, use the old system for a few weeks until we determine the best solution for your circumstances. Please contact us for the URL.

If you need the old system, it will be available with limited features. Here is a list of things you can do on the old system:

View Accounts and Balances.
One-time transfers, including transfers to external accounts.
View Statements and check images.
Business transactions, such as ACH, EFTPS , Payroll. We will contact you to coach your through the conversion.
Transactions must be submitted to SBSU for immediate processing. Do not put anything other than the current date in "Send Date" fields.
The Send Date of all ACH transactions conducted through Cash Manger must remain the default (today's current date). Do NOT adjust the date into the future. Otherwise, files will not be processed.
Only with Send-a-File capability may submit batches with ACH entries with an effective date of more than two days into the future.
First Time Logging into the New System
When service resumes you will be guided through the authentication process. If you need assistance, contact your local SBSU office.
Step 1: Log in to SBSU Online Banking at sbsu.com.

Verify that your CAPs lock is off.
Enter your usual username and password.

Step 2: Enter your username and Social Security Number.
Step 3: Receive your authentication code.

The code may be sent by text or voice phone call. The last 4 digits of registered numbers will be displayed to help your select the best method.
Enter the code when received. (usual wait time is less than 30 seconds.)

Step 4: Choose a new password for future logins using the listed requirements.
Step 5: You may be prompted to set up new challenge questions.

Edit or confirm your choices.

Step 6: Read and accept the new disclosure.
View Changes to Personal Online Banking
View Changes to Business Online Banking
New Features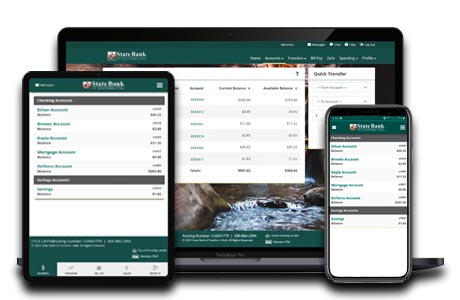 Credit Score Tool - Check and monitor your credit score directly from your desktop or mobile app.
Personal Finance Management System - Track your expenses and save more with the new money management system.
Zelle® - A fast, safe and easy way to send money in minutes to friends, family and others you trust, right from the State Bank of Southern Utah mobile app.
Alerts - Set up custom alerts to manage your accounts with ease.
Unified Login - Desktop and mobile have the same login credentials.
User Permissions- Set up custom users with limited permissions to easily share bank statements with auditors and accountants.
Open Accounts and Loans - Quickly open accounts and apply for loans from your desktop or mobile app.
Mobile App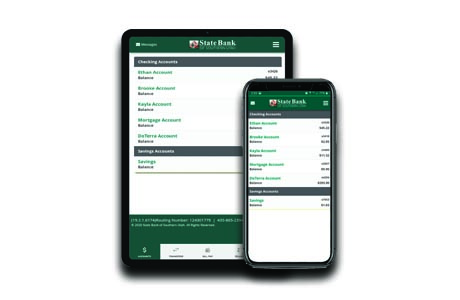 Enhanced Mobile App - New and improved mobile experience that is secure and easy to use.
Schedule Transfers - Schedule to transfer funds at a later date to give you piece of mind.
Fast Balance - Set up Fast Balance to quickly check your balance right from the login screen without logging in. Quick and secure.
Bill Pay - Make paying bills quick and easy by automating the process using our bill pay feature.
Mobile Deposit - Take a picture of your check to deposit the funds into your account.
Business Functions - Business functions are now available on the mobile app.
Online Loans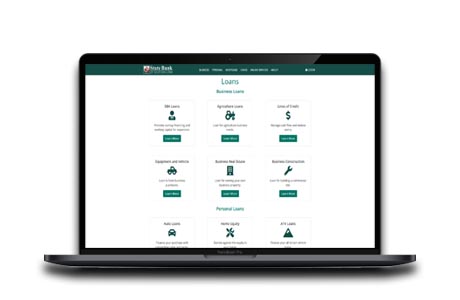 Start your loan application from your desktop or mobile app. It's quick, easy, and secure.
Auto Loans
Home Equity Lines of Credit
ATV Loans
RV Loans
Boat Loans
Home Loans
Credit Cards
Online Accounts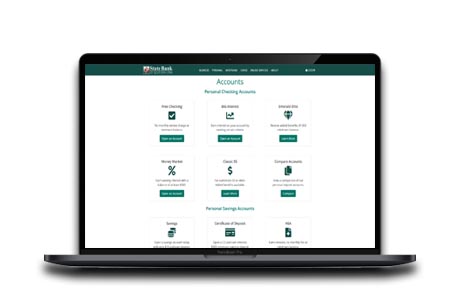 Opening an account online is quick and simple through your desktop or mobile app.
Free Checking
Savings Account
Certificate of Deposit
BIG Interest Checking
Personal Money Market