Bill Pay
Bill Pay is a service that speeds up the monthly check-writing chore. Instead of writing checks, bill-pay users click boxes and type amounts. SBSU and CheckFree do the rest. Add vendors to your Bill Pay list by using the information on bills.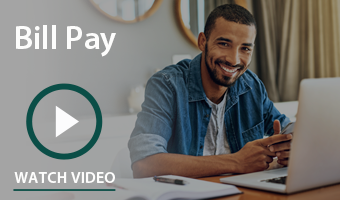 Easiest Way to Get Free Bill Pay
Sign up for E-statements with any business or personal checking account**.
Bill pay is free when you sign up for E-statements.
E-statement include images of posted checks.
Paper statements are turned off.
State Bank's Bill pay Partner
Our Bill Pay provider, CheckFree, uses risk model for paying bills. This means that funds are debited from your account at about the same time the bill is paid.
Most payments to established companies are handled by electronic methods. The remainder are divided between laser drafts (a check that posts to the user's account) and corporate checks (a check from CheckFree's account). SBSU cannot control the payment method chosen by CheckFree. Some high value transactions are sent by paper check.
The system automatically defaults to the earliest payment date, which the user may accept or adjust to a later date.
Bill Pay NSF Caution: Two NSF/OD fees may apply - one from SBSU and one from CheckFree. SBSU may return CheckFree's collection attempt because of insufficient funds (NSF) in your account, in which case you will receive two NSF fees, one immediately from SBSU and another from CheckFree at month end. View fees.
Stop Payments: SBSU or CheckFree stop payment fees may apply depending upon the payment type. CheckFree charges $25 per stop. View our fee schedule for SBSU stop payment fees.
Enrolling in Bill Pay
Enrollment in SBSU Bill Pay is easy!
First enroll in Online Banking.
Log on and click "Bill Pay".
Review the list of accounts available.
To proceed click Sign Up For Bill Pay.
Fill out the form with the required information.
Select the appropriate pricing plan.

Select Totally Free Bill Pay if you have E-statements with any checking account or have Emerald Elite.
Select Basic Bill Pay ($5 per month for 15, then 50¢ each) for any account without the E-statement option. This includes the following:

Classic 55 or Free Checking without E-statements.
Any business or non-profit account without E-statements.

SBSU personnel will review enrollments for proper plan selection.

You may link one account during the enrollment process from which to pay bills. SBSU personnel may link additional accounts for you. Call (435)865-2394.
Click on the "Submit" button when you have finished.
Using Bill Pay
There is a delay of at least one-banking day after enrollment before you may use Bill Pay.
When the Bill Pay interface appears, enter biller information.

Click on "Add a Bill" and follow the prompts.

Enter information completely and accurately.

Enter a complete address when required, including street and/or PO Box, city, state, and ZIP. CheckFree keeps the address of some payees on file, but most addresses must be entered completely and accurately. Double check your work.
Do not assume that payments will be handled by electronic methods.
The address information you enter must be accurate.
CheckFree prints instructions for crediting payments at the top of each laser draft. Make sure that your account number with the vendor is entered correctly or that you provide sufficient "Check Memo" information to ensure that your payment is processed correctly.
CheckFree renames State Bank's Visa as "Certegy Card Services" on your list of payees (Certegy is the behind-the-scenes processor for SBSU). This is OK.
Laser drafts that post to your account like a check start with serial number 5000.
Working with Repeating Payments - Caution
You may add a repeating or automatic payment for any biller.
Click on "Manage my Bills" and select a biller. Set up the appropriate action from there.
Warning! Cancel repeating payments by doing two things:

Update the biller (Manage my Bills) to remove any automatic payments.
Cancel any payment listed as "Pending". It is too late to stop a payment listed as "In Process" or "Processed".

Failure to do both will result in an unwanted payment.
CheckFree identifies repeating payments as pending up to 30 days before the payment due date.
Bank to Bank Transfers
Bank-to-Bank Transfers: Use Transfers > External Accounts for moving money between your accounts that you sign on at other financial institutions.

Log into Online Banking
Click Transfers > External Accounts
Click Add External Account
Fill in the information on the form and click Submit
You must return to the screen at least one banking day later (M-F, excluding holidays) to verify the micro-deposit amounts.

Loan Payments at Other Banks

This is the same procedure for Bank-to-Bank transfers.

External "To" or Deposit Only Accounts at SBSU:

These no longer appear on your home screen.
They appear only in the list of "Transfer To" accounts that you will see when making a transfer.